Community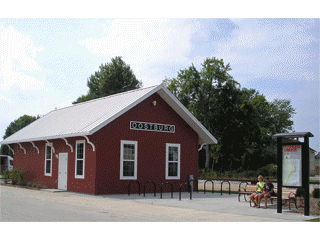 The Oostburg State Bank is located in downtown Oostburg, and downtown Cedar Grove and is proud to play a major role in the lives of the people in theses villages as well as Gibbsville, Hingham, the Town of Wilson, and beyond. Settled by Dutch immigrants in the 1840s, the area has many reminders of its early settlers in the way of decorative windmills, tulips, active churches, well-maintained homes, yards and parks, clean streets, and down-to-earth citizens who still greet you with a smile and a friendly "Hello".
Each year thousands of benevolent dollars flow from the bank into the communities we serve helping a wide variety of local groups, organizations, and schools. Our Scholarship Programs have helped many local students to further their education. We take pleasure in providing our customers with a biannual Customer Appreciation Fry, take part in the Village of Oostburg's Heritage Day, and support of the village of Cedar Grove's Holland Fest, helping to preserve the proud Dutch heritage that is present in the communities we serve. Every April the bank and community celebrate Community Banking Month and each June we pay tribute to our local agricultural industry by celebrating June Is Dairy Month. The day after Thanksgiving the annual Oostburg Christmas Parade is held while December brings the Cedar Grove Village Market.
Our Board of Directors and employees are directly involved with our local schools, churches, and volunteer organizations. The Oostburg area is a caring community and has active Volunteer Fire Departments, Ambulance Service, Chamber of Commerce, First Responders, Kiwanis Club, Lions Club, Optimist Club, American Legion Post, Boy Scouts, Girl Scouts, McGruff Neighborhood Watch, conservation club, and local historical societies. Religion, family, work, education, athletics, music, art, and recreation are all important aspects of daily life to area residents.
It's no wonder the Oostburg area is one of the fastest growing areas in the state of Wisconsin. It's a great place to live, work, raise a family, and operate a locally owned community bank. We have been blessed to be part of this thriving community and the surrounding area for over 100 years. Our decisions are made locally, our commitment is local, and our investments are local, with the vast majority of our loans being channeled to the neighborhoods where our customers live and work. This helps to strengthen and support our local economies helping to ensure that our local area can continue to thrive. See Our Story video for more information.