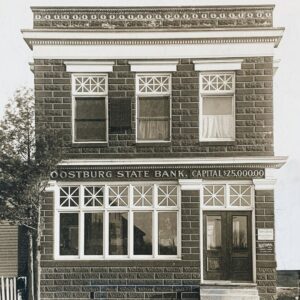 It all began on September 27, 1907. On this day, a group of 39 local residents met to establish a bank in Oostburg. Incorporated by Peter Daane, John Theune, and W.H. Sprangers, the new bank was to be launched to serve the 350 residents of the village with total capital of $25,000.
In October of the same year, it was announced in the Plymouth Reporter that the new bank would be erected at the corner of Mill and Main streets opposite Theune & Wykhuis' store. A foundation was poured in late October, and a "large crew of men" began construction in November.
We opened our doors in 1908, a year before Oostburg was incorporated as a village. A lot has changed since then. The village now has around 3,000 residents – not too big, not too small.
As the area grew, so did Oostburg State Bank. In 1964, we constructed the building we're in today at the at the corner of S. 9th Street and Center Avenue, and in we opened a second office in Cedar Grove in 2010.
And, while we were formed to primarily serve Oostburg, we've expanded our reach throughout Sheboygan County and the surrounding areas – constantly expanding our services to meet the needs of individuals and businesses alike.
One thing that hasn't changed: our commitment to our customers and community. While other banks have come and gone, or reduced services and staff, Oostburg State Bank has not. That's the great thing about being a community bank. We understand the banking needs of our community and the importance of the personal touch – or as we call it, Banking for Life.
We are proud to have been part of this community for 114 years, and we're looking forward to serving you for years to come!