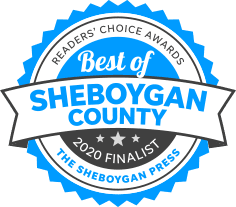 Oostburg State Bank is one of the top Banks or Credit Unions and Mortgage Companies in Sheboygan County according to a local survey. As part of the Best of Sheboygan County presented by The Sheboygan Press, LOCALiQ and the USA Today Network, Oostburg State Bank was selected as a Finalist in the Best Bank or Credit Union and Mortgage Company Categories.
Oostburg State Bank was one of 25 area banking institutions and 22 mortgage companies entered in the contest, and one of only three in both categories selected by vote for top honors.
As a fiercely independent, locally owned bank, we are delighted to be selected for this honor by our friends and neighbors. We have been serving Sheboygan County for more than 112 years, and we don't plan on stopping anytime soon.
For more information about Best of Sheboygan County, visit the official website.