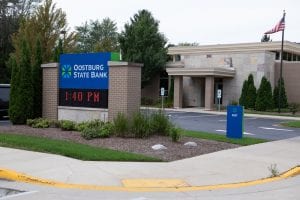 It's hard to believe it's been 10 and a half years since I first met with Gary DeMaster to discuss building an Oostburg State Bank office in Cedar Grove. After 20 years of banking in Sheboygan, I accepted the challenge to build a bank from the construction phase, to building my team, and now the chapter of ongoing growth.
Through changes in interest rates and market cycles, the OSB – Cedar Grove office has strived to remain faithful to providing our customers valued-added customer service, and sound financial advice in an ever-changing economy by taking a strategic, personalized approach to banking.
We will do our best to continue providing Cedar Grove and the surrounding communities with exceptional customer service while providing appropriate financial products and services. Our financial commitment to the communities we serve will continue and our mission is to remain an independent bank.
Thank you so much for your commitment to OSB and allowing us to serve you!
Steve Wisse
Office President
OSB – Cedar Grove